Orchestra of the Maggio Musicale Fiorentino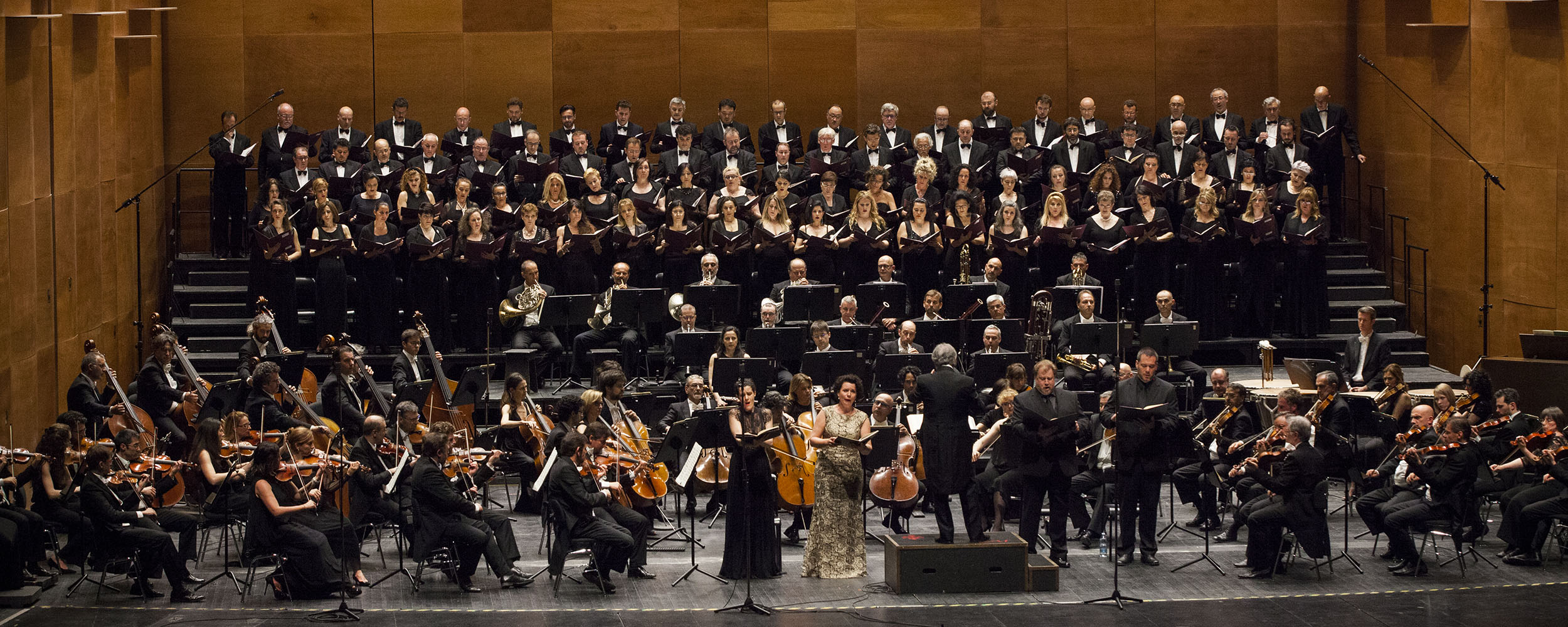 Founded in 1928 by Vittorio Gui as the Stabile Orchestrale Fiorentina, from its beginning the Orchestra plays in concerts and operas of the former Teatro Comunale of Florence, now Teatro del Maggio Musicale Fiorentino. Today the Orchestra is still considered one of the finest orchestras both by conductors and audiences from all over the world.
In 1933, on the birth of the Festival, it takes the actual name of Orchestra del Maggio Musicale Fiorentino. After Gui, the principal conductors were Mario Rossi (1937) and Bruno Bartoletti (after the Second War). Fundamental chapters in the Orchestra history are the years from 1969 to 1981, were the position of princpal conductor was given to Riccardo Muti, then to Zubin Mehta, who became Principal conductor from 1985, and then to Fabio Luisi from 2018 to 2019. Currently, and since 2006, Zubin Mehta is the Maggio Musicale Fiorentino's honorary director for life and he is a a focal and fundamental part of the life of the Maggio as the fatherly guide of the institution itself.
In its history the Orchestra del Maggio was conducted by greatest conductors such as: Victor De Sabata, Antonio Guarnieri, Gino Marinuzzi, Gianandrea Gavazzeni, Tullio Serafin, Wilhelm Furtwängler, Bruno Walter, Otto Klemperer, Issay Dobrowen, Jonel Perlea, Erich Kleiber, Arthur Rodzinski, Dimitri Mitropoulos, Herbert von Karajan, Leonard Bernstein, Thomas Schippers, Claudio Abbado, Lorin Maazel, Carlo Maria Giulini, Georges Prêtre, Wolfgang Sawallisch, Carlos Kleiber, Georg Solti, Riccardo Chailly, Giuseppe Sinopoli, Seiji Ozawa, Daniele Gatti, John Eliot Gardiner.
So many composers conducted a premiere of their music pieces at the Maggio Musicale Fiorentino such as: Richard Strauss, Pietro Mascagni, Ildebrando Pizzetti, Paul Hindemith, Igor Stravinskij, Goffredo Petrassi, Luigi Dallapiccola, Krzysztof Penderecki and Luciano Berio. Since the fifties, the Orchestra made numerous recordings, also for radio and television, which received major awards including, in 1990, the Grammy Award. At the eightieth anniversary of its foundation, the Orchestra receives the Fiorino d'Oro of the City of Florence.
The Orchestra also made frequent international tours led by Zubin Mehta, for opera and concerts in Europe, Asia, the Middle East and South America. The Maggio Orchestra returns to Salzburg 25 years after its last presence, when in 1996 it was always hosted with maestro Zubin Mehta.
ORCHESTRA PROFESSORS
First violins  
Domenico Pierini (violino di spalla)
Gianrico Righele (concertino)
Lorenzo Fuoco (concertino)
Boriana Nakeva (terzo posto)
Luigi Cozzolino
Fabio Montini
Anna Noferini
Laura Mariannelli
Emilio Di Stefano
Nicola Grassi
Angel Andrea Tavani
Simone Ferrari
Annalisa Garzia
Leonardo Matucci
Luisa Bellitto
Violini secondi 
Marco Zurlo (I)
Alessandro Alinari (I)
Alberto Boccacci (II)
Luigi Papagni (II)
Giacomo Rafanelli
Orietta Bacci
Rossella Pieri
Sergio Rizzelli
Laura Bologna
Cosetta Michelagnoli
Tommaso Vannucci
Carmela Panariello
Corinne Curtaz
Anton Horvath
Violas 
Jörg Winkler (I)
Lia Previtali (II)
Herber Dézi (II)
Andrea Pani
Stefano Rizzelli
Flavio Flaminio
Antonio Pavani
Naomi Yanagawa
Cristiana Buralli
Donatella Ballo
Michela Bernacchi
Ragli Elisa
Marino Claudia
Cellos 
Patrizio Serino (I)
Simão Pedro Alcoforado Barreira (I)
Michele Tazzari (II)
Elida Pali (II)
Beatrice Guarducci
Wiktor Jasman
Sara Nanni
Costanza Persichella
Sara Spirito
Basses 
Riccardo Donati (I)
Marco Martelli (I)
Renato Pegoraro (II)
Fabrizio Petrucci (II)
Nicola Domeniconi
Daniele Gasparotto
Harp 
Susanna Bertuccioli (I)
Flutes 
Gregorio Tuninetti (I)
Alessia Sordini
Piccolo
Oboes
Alberto Negroni (I)
Marco Salvatori (I)
Alessandro Potenza
English horn 
Massimiliano Salmi
Clarinets 
Riccardo Crocilla (I)
Leonardo Cremonini
Smal clarinet/strong>
Paolo Pistolesi
Bassoons
Stefano Vicentini (I)
Rojas Garcia Alejandra (I)
Gianluca Saccomani
Francesco Furlanich
Horns
Luca Benucci (I)
Emanuele Urso (I)
Alberto Serpente
Alberto Simonelli
Michele Canori
Stefano Mangini
Trumpets 
Andrea Dell'Ira (I)
Claudio Quintavalla (I)
Marco Crusca
Emanuele Antoniucci
Trombones
Fabiano Fiorenzani (I)
Andrea G. D'Amico
Massimo Castagnino
Low trombone  
Gabriele Malloggi
Low tuba 
Mario Barsotti
Timpani
Fausto Cesare Bombardieri (I)
Gregory Lecoeur (I)
Drums
Lorenzo D'Attoma
Orchestra organizing secretary 
Luca Mannucci